The City of New Orleans knows how to have a party and the 'Running of the Bulls' (reenactment) will be no different!  With this year's 9th annual celebration on July 9th-12th, plan to let the good times roll with this popular event. It's free to all and will be held at different locations daily.
Do you ever think of the saying 'out of sight, out of mind'? Well, it might be something to reference for our underground infrastructure for many of us.  In all reality, it is not a daily topic of discussion. But our City's sewer system has many parts working together simultaneously to keep our pipelines functioning well.  Our sewer system in New Orleans consists of 1,600 miles of sewers ranging in inches to feet.  We have a thriving and impressive system.  Though the system has been maintained and revised, it has been going strong since the early 1900's.  Recently, the City has completed the necessary testing of most areas in New Orleans. Uptown and Mid-City will begin next year in an ongoing effort to secure and repair the pipelines, as needed.
Perma-liner Industries specializes in trenchless technology and Cured in Place pipeline rehabilitation. We have been using our state of the art equipment since 1999.  Call us to find out how we can help you keep the underground system at your residence working great and free from disruption. www.perma-liner.com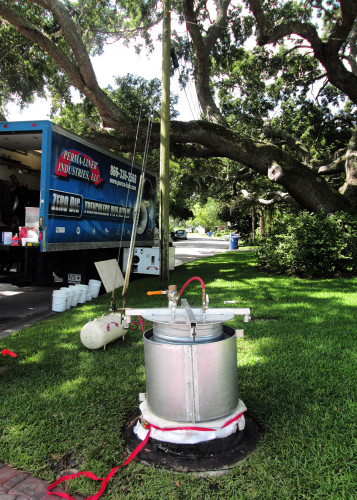 Save the Date! 
Mark your calendars because you won't want to miss this!  On July 28th-30th Perma-Liner Industries is hosting a very special event and we'd love to see you!!  We're having our Open House in the Tampa Bay area and it's sure to be a great time.  We'll have our excellent staff here to answer all of your questions about Cured-in-Place Pipeline products and our state of the art trenchless technology.  Come out and see live demonstrations, share friendly conversations and gain information.  Meals will be provided.  Please register at no cost: info@perma-liner.com or 1-866-336-2568. Click Here to Register!